How to beat boredom in retirement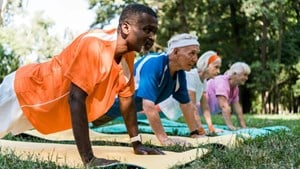 Boredom is rising in retirement and it's having a negative impact on our health. We look at how a change in mindset could make boredom a thing of the past.
The Italians have a saying: dolce far niente, which loosely translates as the sweetness of doing nothing. It conjures up images of lingering in a café chatting with friends for hours, going for a steam facial and shave at the barber or taking a nap after a delightful lunch.
Unfortunately, many of us do not embrace "doing nothing" as we possibly could or should, even in retirement. But there's some science behind why that's the case and why boredom is rising later in life.
Studies suggest that humans are not programmed to be inactive for long periods. It leaves us restless and wanting for more, even if sometimes we haven't the foggiest what we could do with all our spare time.
We look into how our current mindset could be holding us back and making us bored.
Ways to beat boredom and boost your health in retirement
To stay healthy, we need to keep balance in body and mind. Activities that foster social interaction and are gentle on the joints can double the health benefits.
In psychologist Susan Pinker's book The Village Effect, she discusses how direct person-to-person contact triggers parts of our nervous system that release a "cocktail" of neurotransmitters which help us regulate stress and anxiety.
Starting something new could also stimulate your brain and feel-good hormones. Dancing, walking groups, Pilates, tai chi, bowls and walking football all give you the chance to make new friends while having a reason to move about.
Research suggests that an activity that stretches you but is also fun can create a beneficial "flow state" in your brain, which can also help beat boredom. Dancing is one of the best exercises we can take up as we age. Dance is sociable and improves your balance. Remembering dance sequences also improves memory and focus.
Those with less mobility can look for chair dance classes. These classes often include over 50s who want to be social and enjoy music and movement yet from the stability of a chair-based workout. You can look for activities like this or other options by going online to Age UK to find services available in your area.
7 things to do when retired and bored
With extra time on our hands, we can sometimes get into a rut. Here are a few things to consider to keep active in retirement.
1. Alter your mindset
Being bored is often a very personal state of mind. You should ask yourself if you are holding back on doing new activities because of a lack of self-confidence or anxiety about thinking you may not fit in. When you think about it, you have as much right to join a club as the next person, so why be the one losing out on all the fun? Sue Brown, a life coach specialising in adapting to life changes, suggests we should learn to spot old beliefs that could be holding us back. When things do not go as planned, people often see this as a failure, she says, but urges all of us to look at these moments instead as opportunities to learn and grow. For more of Sue's tips, listen to our <podcast>.
2. March to the beat of your own drum
You might find that you do not share the same passions as your spouse or friends. Consider exploring passions and retirement hobbies that really strike your interest. Sometimes we just have to take the plunge and go for it, despite what others may think.
3. Get creative
As new generations enter retirement, activities and interests will undoubtedly reflect that generational shift. Society is cottoning on to this, with more options available, often within creative outlets. For example, the Royal Academy of Dance has Silver Swans, a dance programme for seniors, which the Queen Consort attends. Other creative retirement activities you could explore include art classes, which are often run by local colleges or councils. You could also try online singing and breathwork if you find it hard to leave the house, but want to remain connected to others.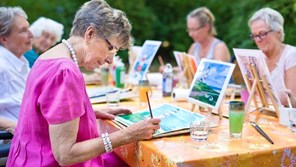 4. Relive aspects of your youth
Retirement could be an ideal time to rediscover previous passions and interests that you possibly gave up when career or family responsibilities took priority. You could also search for like-minded member groups, whether you're into Northern Soul dance or model trains.
5. Play games
Playing chess, bridge and bingo are often activities available online and at local community centres. You could also invite friends, your adult children or grandchildren to play online, which is a great way to get the most out of multi-generational sociable activities that keep different parts of your brain active. They are also activities you can enjoy in retirement on a budget.
6. Learn a language
Learning a new language stimulates different parts of your brain and can enhance a trip abroad. If you are travelling abroad for the first time on your own or in a tour group, knowing the local language could boost your confidence and even help you travel off the beaten path. There are online courses, interactive apps and individual lessons to explore. However, if you are looking for something more social or an opportunity to practice your new skills with others, then group lessons could be more up your street.
7. Volunteer and mentoring
Volunteering in retirement can be an occasional or regular commitment with great feel-good benefits for you and the charity you support.
Try your local food bank, school, leisure centre or sports club, church café, museum or art gallery.
Age UK has rewarding volunteer opportunities that really make a difference in someone's life
The National Trust, for example, trains and relies on a large bank of retired volunteers who share their knowledge of history with visitors.
You could give something back as a mentor. The One Million Mentors scheme matches up mentors and young people and has changed thousands of lives.
For more inspiration and tips to make the most of your retirement and adapt to life's big changes, browse our useful articles section or listen to the Age Co podcast.