Household gadgets that could help make life easier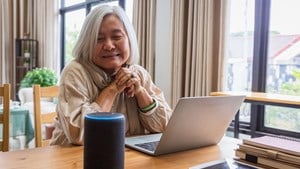 Daily to-do's can get tricky and frustrating when your mobility and dexterity are challenged. We share some tips and gadgets that could make household tasks more of a breeze than a bother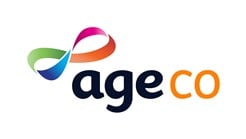 Age Co Home Insurance
We sell products and services designed to help people make the most of later life, and we give our profits to the charity Age UK.
Who would have thought digging for a jar of marmalade in the back of the fridge or buttoning a coat could become difficult? As you get older, you might find some daily tasks become more frustrating or troublesome. The good thing is there are life hacks that can take the toll out of daily responsibilities and chores. In this article, we'll share some of our favourite hacks for making life just that little bit more manageable.
How to have a stress-free morning routine
Here we share some simple ways to get you through your morning with less hassle.
Daily alarms that act as reminders
If you have medicine to take at specific times during the day, setting a daily alarm or calendar reminder on your smartphone should help you keep on track with taking each dose. For most mobile models, you can go to the clock settings, find the 'Alarm' function, set the time of day and then tick all the days of the week necessary for each reminder.
Electronic pill reminder
These pocket-sized gadgets are easily portable and with as few as three buttons are simple to use. As they're battery powered once you set an alarm it will go off at the same time each day until either the battery runs out or it's reset. Some, like TabTime Timer, for example, can even program up to eight alarms per day.
Digital calendars
If you know someone with memory problems or dementia, there are digital calendars with up to 20 programmable visual and audio daily reminders (i.e., reminders for medication, pet feeding, eating and drinking/hydration, etc.).
One example is the Ravencourt Living Rosebud Dementia Reminder Clock available directly from the supplier, but we found there are cheaper options on sites such as Argos and Amazon.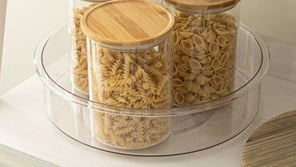 Lazy Susans
Rotating trays or turntable organisers also known as "lazy susans" aren't just for table tops and cupboards. They are a handy device to place on a shelf in your fridge for items you use every day, such as marmalade, butter, condiments, cheese and cream. This stops you from having to bend down and reach for items in the back of the fridge. It is also likely to help you avoid foods expiring since you'll have easier access and be able to check labels more often. They are available online including Amazon.
Button hook and zipper pull
Buttoning tops, trousers or coats can be a daily challenge for those with reduced function in their hands from arthritis or inflammation. That's why having a button and zipper pull in your bedroom and another where you put on your coat, will be a time saver. They are hand-held devices that have a hook on one end for pulling up zippers and a metal hoop for grabbing and pulling buttons through buttonholes on the other. Many of these can be purchased for under £5 through online retailers or mobility shops. We found the latter to be cheaper.
Mobility grabbers
If you have ever seen people on the side of the road collecting rubbish with extendable poles with grabbers at the end, these tools have been modified for everyday home use. These can be inexpensive and are often available in discount/pound shops, mobility specialist shops, hardware stores, and online. They are great for grabbing clothes and placing them in and out of the washing machine and dryer. They can also be used for grabbing branches you want to trim in the garden and for grabbing and sorting rubbish as well as recycling. Also a fun way for the grandchildren to tidy toys.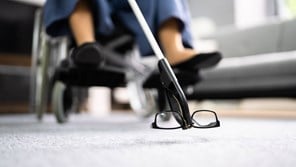 How to find your keys, mobile and remote in a flash
We've all been guilty of misplacing keys, phones or TV remotes — sometimes to find them later in the strangest of places such as the bathroom or even the fridge! Here are some tips and tech to help track things down.
Create a hold-all place
If you often find yourself on the hunt for your keys or wallet, having one set place for your important items can be a simple solution. That said, you should avoid placing your mobile phone or keys on show near windows or front doors where thieves might easily spot them.
For those who think they will still misplace their keys and mobile, there are also some technical solutions to consider.
Tile Mate finder
Tile Mate is a Bluetooth tracker that you attach to useful items in case you misplace them. The tracker is battery-powered, and works with your smartphone. Just open the Tile app and tap "Find" to make your Tile Mate tracker "ring" to locate your misplaced item. The tracker and app also work with Amazon Alexa and Google Assistant, so you can use voice commands to find your lost items.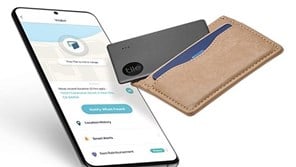 Robot vacuum cleaners
Tomorrow's World presenters would have fought over product-testing today's robot vacuums. Models offer clever features, such as automatic battery-charging stations, self-cleaning and object-sensing. There are several brands, models and price points to choose from. As there may be many options to choose from we recommend conducting your own research to find a product that best suits your needs.
iRobot Roomba
Being one of the original robot vacuum cleaners, the Roomba brand is the most popular. There are three function types to choose from, ranging in price from £279 up to £1,998.
The price tends to go up with models that offer self-emptying like j7/j7+ models. Enclosed bags will capture over 60 days' worth of cleaning including almost all pollen and mould. Ideal for allergy sufferers since you won't have to touch the dust or debris. These models also offer – get ready for it – P.O.O.P. (Pet Owner Official Promise) that will avoid dog and cat pet waste, or the company replaces the machine for free. The offer is valid for one year from date of purchase and covers replacement products only. The guarantee "does not apply to the non-avoidance of materials other than solid waste, including but not limited to non-solid waste, waste from animals other than cats or dogs, hairballs, or vomit."
Other top features of the latest models include an automatic 'return to charger' function when the battery is low. Mapping allows the vacuum cleaner to create a map of your home. You can then manage the iRobot through the app to tell it which rooms you want cleaned and when.
Hands-free vacuuming
Vacuum and mop simultaneously
Vacuum or mop with a swap of a bin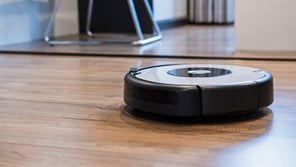 Evovac's DEEBOT
This robot's laser mapping can vacuum and mop your floors whether they are tile, wood, marble or carpet. The Auto-Empty Station automatically empties the DEEBOT's dustbin into a disposable bag that can hold up to 30 days of dirt and debris. This means fewer trips to the bins and a cleaner home for weeks. The water reservoir holds enough water and detergent, so it does not need refilling during the mop cycle. There are different DEEBOT models for larger capacities and for households with pets, including a video app to keep an eye on your pet when in use.
Dyson's 360 Vis Nav
Dyson claims its 360 Vis Navᵀᴹ Robot Vacuum has more suction power than other models. However, despite being one of the latest to come to market, it does not have a mopping function. It handles corners very well thanks to its D-shape and like others on the market is managed by an app. It does not need Wi-Fi and can still map a room, so it remembers room layout for future cleans.
Some may question if it offers value for money at £1,399.99, given it lacks features other brands include. However, for loyal Dyson customers, we recommend watching online video reviews to judge for yourself.
AI voice assistants: enjoy the perks and keep your data safe
Voice-activated assistants such as Amazon's Alexa and Echo, Google's Assistant/Home and Apple's Home Pod/Siri can be handy and fun.
The convenience of hands-free devices could include:
Searching the web hands-free for the weather forecast, a recipe or sports team game results
Staying connected by being able to call friends and family with the sound of your voice
Controlling smart home devices (i.e., smart locks, security systems, lighting, dishwashers, video doorbells)
Keeping you and your grandkids entertained by asking your device to play a television programme or film through your streaming service (i.e., Netflix)
Making appointments, shopping lists and reminders that can be added to your mobile's calendar and lists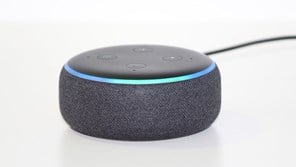 Examples of voice-activated commands:
"Alexa, remind me to take my medication at 10 am."
"Google Assistant, what's the weather forecast for today?"
"Siri, play [your favourite song]."
"Alexa, read me the next chapter of my audiobook."
"Google Assistant, what's on in my area this weekend?"
"Siri, call [name]."
"Alexa, turn on the lights in the kitchen."
How to protect yourself from voice assistant security and privacy risks
Smart speakers collect a lot of data, including voice recordings, financial information, and device usage. This could make anyone concerned that their data could be used for unintended purposes such as tracking, advertising or hacking.
This is why it can be valuable to learn how to control your data, monitor how long it is stored and understand who has access to it. To help you get a little more comfortable with your device, consider these safety tips:
Choose a reputable brand to get the best value for money and to ensure you have more control over your data and privacy
Be careful about the information you share such as passwords, wake words and financial details (including national insurance numbers)
Use a strong password and do not share it except with a trusted family member who is making purchases on your behalf or has power of attorney over your finances
Keep the software up to date to avoid glitches or data breaches
Be mindful that devices are not perfect and at times give inaccurate information. For example, on medical matters always discuss health concerns with your GP rather than solely with Dr Google and Alexa
We hope you can put some of these tips and gadgets to good use. For more advice on making the most of later life, visit our Useful Article section to discover more helpful guides.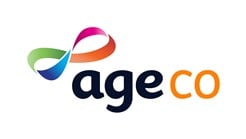 About Age Co
We sell products and services designed to help people make the most of later life, and we give our profits to the charity Age UK.