Health tech: how to use it to recover faster after surgery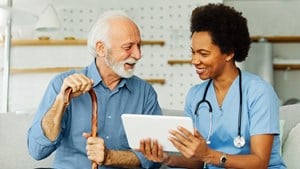 We take you through some of the latest apps, gadgets and online resources that could help quicken your recovery time after an operation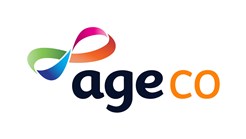 About Age Co
We sell products and services designed to help people make the most of later life, and we give our profits to the charity Age UK.
By 2030, more than 1.48 million people aged 75 years or older in England will have a surgical procedure each year. The good news is that assistive technology and telehealth, such as blood-pressure monitors, diabetes blood testers, and mobility devices such as walkers, could enhance your doctor's suggested recovery plan and encourage you to live independently for longer.
Below, we share different ways people have used technology and online sources that have sped up their recovery time after some of the UK's most common surgeries.
What can help you recover quicker after a joint or hip replacement?
A hip or joint replacement can give you a new lease of life but the recovery time can be trying if you're raring to be up and about. Usually, most people are back to light activities within six weeks. There's a range of non-tech tools to help you with your recovery, from sock aids to dressing sticks, but there's also a slew of apps around to help you get back on track.
The free mymobility app, for example, can give you step-by-step instructions to support surgical preparation and recovery. The app (which is available on Google or Apple) can also track your daily steps for clinical reporting and sends you reminders when you have new activities.
73-year-old Elinor had a hip operation in 2019 and says, "I used text, email and Facetime while in hospital for ten days and I also used an app to contact the GP for repeat prescriptions and doctor for appointments."
During her recovery period, she used YouTube for ideas on how to help with mobility, "how to shave my legs and how to find suitable exercise routines (such as fitness instructor Rachel Lawrence's Youtube channel, The Girl with the Pilates Mat, Standing Pilates for Seniors, and Tai Chi)."
Are there apps I can use to help recover after pacemaker surgery?
If you have a pacemaker fitted, you'll usually be able to go home the same or next day but you might need to take it easy for a while and refrain from specific movements and strenuous activity.
Medtronic has developed a bluetooth wireless system – MyCareLink Heart™ – which means you can now use your smartphone or tablet instead of a bedside monitor to schedule data to be sent to your clinic or whenever your doctor requests device information. Your doctor will have to confirm your suitability and enrollment in the Medtronic CarLink network before you can start. You will also have to discuss any costs for the device and app that may be covered by the NHS.
Remember to ask your doctor about how much exercise you should be doing and consider downloading the free Daily Workouts Fitness Trainer app that can take you through more than 90 exercises from five-minute targeted workouts to 30-minute full-body exercises, depending on the level of activity suggested by your doctor.
Most apps are free to download and offer basic options at no cost. But some apps have built-in subscriptions for advanced options that are charged usually on a monthly or discounted annual rate. If you sign up for a trial paid subscription and decide after it's not for you, make sure you cancel the subscription before the trial ends as apps will often automatically charge your card if you do not.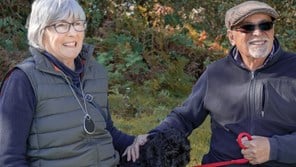 After cholecystectomy (gallbladder surgery)
It can take around three to four weeks to recover from gallbladder surgery. Some people, however, may experience prolonged post-surgery problems such as diarrhoea that could last weeks to months.
A world-renowned US hospital group, the Mayo Clinic, provides a plethora of tips online for recovering after many surgeries. In the case of gallbladder surgery, the Mayo Clinic suggests these diet tips to help stop diarrhoea:
Go easy on the fat
Increase soluble fibre such as oat bran in your diet
Eat smaller, more-frequent meals
Limit caffeine, dairy products and very sweet foods
Besides watching what you eat, short-distance walking is also advised to aid recovery.
The NHS Active 10 app, for example, tracks your steps, helps you set goals and shows your achievements. Ask your doctor after surgery what sort of exercise you should be doing and the app will help you stay on track.
Have mobility issues? These helpful apps and online tools could help
Technology and online sources such as talking newspaper apps and Amazon's Alexa have been developed to bring greater peace of mind and social interaction to older people living alone, in recovery, and with disabilities.
Amazon Echo devices that use the Alexa voice assistant, are ideal for people who have limited mobility. These devices are hands-free and voice-activated so they can help you with daily tasks.
For example, the Alexa voice assistant can set reminders for:
Medication
Appointments
Listening to the news or playing music
Searching for information online and have it read back to you.[1]
Also, ask your care team or your general practitioner if there are any online post-op exercise classes they recommend that you can do at home via your home computer or smartphone.
If you are struggling with mobility post-surgery or transport to appointments, call your doctor's office to see if they have a video-consulting app you can sign up for. Doctors and nurse practitioners are sometimes happy to do check-ups via video or over the phone.
Where can I get free tech support?
If you are discouraged from trying out new technology, there's support out there. The charity AbilityNet, for example, is made possible through friendly tech volunteers who provide free IT support to people later in life and disabled people of any age, anywhere in the UK over the phone or in their homes.
Don't hesitate to ask trusted friends, family and neighbours for help. Age UK can also help teach you how to fill out online forms with confidence, especially those tied to benefits you are entitled to and other community services.
[1] https://www.aboutamazon.com/news/devices/how-alexa-helps-customers-with-disabilities-every-day