6 steps for a healthy relationship with your spouse in retirement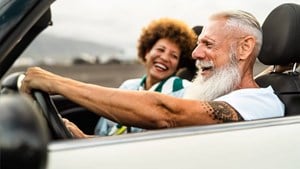 Marriage in retirement can lead to unexpected changes in a couple's dynamics. We share tips on how to rediscover your spouse all over again.
Retirement is a time when relationships can come under pressure. Almost one in four people (23%) are concerned about spending more time with their partner as retirement looms and worry it could lead to separation or divorce, according to an M&G report*.
The good news is there are plenty of steps you can take to strengthen your relationship.
6 steps to maintain a happy marriage
1. Talk about interests and plans you can develop together and individually
Before you met you had your own interests. That is likely one of the things that attracted you to your spouse. Equally, embrace your shared interests and those that make you individually you. You'll also have new things to talk about and learn about each other when you set aside quality time together (i.e. evening walks, picnics or countryside drives).
2. Widen your circle of friends
By joining new activities and groups together and individually, your social network should grow. If you downsize to a new area you will be likely to be doing this anyway. It's never too late to meet new people and make lasting friendships. It's healthy.
3. Don't be put off by trying something new
Sometimes trying something new takes us out of our comfort zone, such as mixing with people who are younger than us. There's no time like the present to at least try something you are keen to explore.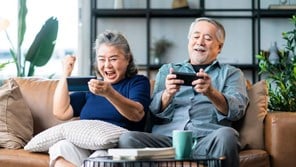 4. Make a list of things you'd like to do
Consider personal goals you would like to achieve, such as taking cooking lessons or participating in a sports tournament. Ask someone you trust to help you keep on track. That way you can reap the benefits of achievement, rather than just thinking about it.
5. Share household responsibilities
Agree on who is going to do what around the house and don't just assume things will be done as they were in the past. Sharing tasks and responsibilities helps people feel valued.
6. Listen to podcasts or subscribe to free newsletters
Podcasts, blogs and newsletters, many of which are free, can offer education and entertainment, which can lead to new interests you may want to take up. Try our Age Co podcast.
Adjusting to retirement as a couple: Anne and Andy's story
Anne and her husband Andy moved back to the UK from Canada and settled in Scotland in 2015. Anne retired that year at the age of 56, with Andy retiring in 2022 at 58.
It meant they had to carefully plan the next stage of their lives, financially, practically and emotionally.
Anne explains: "By the time Andy retired, I had spent six years setting up our home, going to classes, volunteering and making new friends, all of which kept me active and socially engaged.
"Andy's plan had been to retire at 60, but work was taking a toll on his health and mood, so we revised that so he could retire two years earlier, even though it would mean we'd have less money for luxuries in retirement.
"I was happy with this, but concerned about how Andy would adapt. We'd moved home so often and work took all his energy, so he had no hobbies or local friends. He thought things would 'sort themselves out', but I took the initiative and bought him golf lessons for his birthday. He came back from those lessons absolutely bursting with enthusiasm! That was the first time I'd seen him get excited about having more time to do something other than work.
"Andy did take a while to relax into retirement. We had to sit down and talk it through several times to reassure him that we'd be OK. Once spring arrived and he got out on the golf course, all our worries faded away. He loved being out in the open air, learning a new skill and, as a bonus, making new friends with a shared interest in golf.
"Since then, we've been getting on with each other very well. Andy's much better company because he doesn't talk about work anymore! We have our separate interests and friends, but we also share the upkeep of our home and garden and enjoy days out and holidays together.
"We're more connected to our families as we have more time to keep in touch and visit them."
*M&G retirement revisited report, Oct 2022, stats page 25