Does home insurance cover roof leaks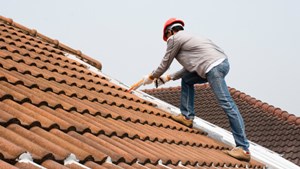 In this post, we discuss the topic of roof leaks and answer questions about what's covered by home insurance, which could help you if you need to deal with an unexpected leak in your home.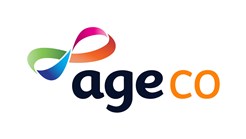 Age Co Home Insurance
We sell products and services designed to help people make the most of later life, and we give our profits to the charity Age UK.
Depending on the materials and methods used to build it, and the weather conditions it faces, a good roof can last anywhere from 20-50 years. Keeping your roof well maintained, with the support of professional tradesmen, will ensure you make the most of its lifespan. But there may also be occasions where it begins to leak. In this article, we'll explore some practical steps you can take if a leak occurs and whether your home insurance will be able to cover the cost of the repairs.
How to fix a leaking roof
If you suspect your roof is leaking, get this checked by a professional roofer.
If there's a flow of water, capture this with a suitable container to minimise damage. You should also cover or move any furniture that may get damaged by dripping water.


Does home insurance cover roof leaks?
In most cases, if the damage to your roof was caused by an unexpected incident (such as a storm, vandalism or falling trees) you will be covered by your home or building insurance. But if the damage is down to general wear and tear, you probably won't be protected by your policy. As a homeowner, you're required to keep your property in good working order and to maintain it well.
However, as every policy is different, you will need to check your policy details. In certain cases, a home insurance policy may also include a roof exclusion which outlines specific work or circumstances that will not be covered.
Does buildings insurance cover roof repairs?
Your cover will depend on the policy you take out. For example, with Age Co Home Insurance, provided by LV=, if your roof is made from slate, tile, metal, concrete or asphalt, your roof will be covered for damage caused by incidents such as fire, explosion, lightning, storm, falling trees and subsidence. However, general wear and tear, such as defective rendering, is not covered. As well as this, you cannot claim for having a chimney repointed or for general roof maintenance.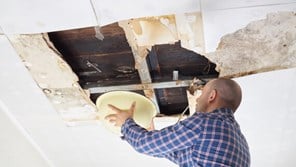 Can you claim for a new roof on home insurance?
A claim will only include repairs to the affected area of the roof. As such, if you wish to install a new roof, your home insurance probably won't cover the cost of a full replacement. There may be unique circumstances where the damage can't be rectified by repairs alone, or it's actually more cost-effective to replace the roof than patch repair it, but this is unusual.
How do I make a claim if my roof leak is covered by my home insurance?
If you're able to claim against your home insurance and you decide to progress this, there are a few steps you can take to help the process along.
Share the details
Using the number on your policy document, ring your insurer and provide plenty of details on your roof issue and the damage that it's caused.
Catch it on camera
Taking photos or videos to show the issues with your roof and any damage caused by the leak will help to support your claim. Documenting this throughout the process can also be helpful.
Set the scene
Collating evidence to prove your roof has been well looked after over the years can help when claiming your home insurance. Examples could include receipts for previous repairs or maintenance work.
Ask about next steps
Unless work has to be carried out on your roof as a matter of urgency, your insurer will usually want to appoint a tradesman to assess and carry out repairs. If, however, works must be delivered immediately your provider may reimburse you afterwards. With Age Co Home Insurance, provided by LV= customers should call the emergency helpline detailed in their policy documents if urgent assistance is needed.
Confirm your excess
There may be an excess outlined for your home insurance and this may vary depending on the claim you're making. Knowing how much you need to contribute to your claim can help you prepare and progress through the process.
Does home insurance cover plumbing?
Of course, it's not just roofs that leak, pipes can too. In many cases, if a pipe leaks and damages your property, the damage caused by this leak will often be covered by home insurance but this will depend on your policy. The pipe repairs, however, may not be. This is because many insurance providers deem pipework and plumbing to be part of the homeowner's maintenance responsibilities.
If surrounding items are damaged, such as furniture or clothing, they could also be covered by your contents insurance. A contents policy can sit separately from buildings insurance or bought in combination. It doesn't cover the building itself, just the items within it.
Is water damage covered by home insurance?
The details around water damage cover differ greatly from one policy and provider to the next, so it's always best to do your research. If water damage occurs because of an unexpected event, such as a storm, you may be covered by your home insurance. Escape of water from fixed installations like radiators, showers or washing machines may also be covered by certain policies.
With all cases, it's important to note that if the plumbing and pipework have not been kept in good working order, your claim may not be successful.
There are also certain circumstances that may require additional or specific policies to be in place. The situations are more common for homes in areas prone to flooding or with a history of flooding. However, if you're in doubt about the policies you may need for your property, it's always best to talk to your insurance provider about the cover available.
With Age Co Home Insurance, provided by LV=, your home is covered against water damage that occurs from frozen pipes, escape of water from appliances (such as a washing machine, dishwasher, waterbed or fish tank) and heat or drainage installation. Cover is also included to help find where water is coming from in the event of a leak.
Whatever the issue, when your home is damaged and needs repairs it's good to be able to act quickly and confidently. We hope this article has helped shed some light on roof repairs and what your home or contents insurance is likely to cover in relation to roof leaks. For more information on contents insurance and whether you need it, please take a look at our article on the topic.
Learn more about our home insurance.