Downsizing your home: real stories to inspire your move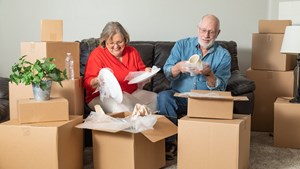 People downsize their homes for all kinds of reasons. Here we share three unique stories of how people downsized successfully, thanks to a positive mindset.
Hazel: how to downsize after becoming a widow
Following the death of her husband, Stephen, Hazel moved to a cottage in East Lothian with her cats and much-loved furniture.
Downsizing after becoming a widow was not something Hazel had anticipated, but it turned out to be less harrowing than she expected. She moved from a big house to a cat-friendly cottage. However, this did raise the question: how was she going to find space for all her furniture and books?
Hazel explains: "I decided to sketch out a plan of my soon-to-be new home so I could work out what could go where. I even found a place for my Victorian grandfather clock, which has been with me all my life."
Hazel's tips for a successful downsize
"You need practical things to think about to keep your mind off how your life has changed so much. Take a few much-loved possessions to your about-to-be-perfect home so that your next house has your personality. Do as much sorting or disposal as you can bear, first. It'll be worth it. Accept any help offered, but try to remain in charge of what is being done."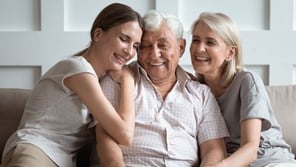 Alice: downsizing your home to get the most out of later life
Alice's mum and dad moved from an old, three-storey house in Devon to the same Perthshire village where she and her sister live.
After being in their home for 40-plus years, Alice's parents took the practical decision to downsize as they headed towards their 80s.
"Dad had renovated and maintained the house and Mum had an extensive garden," explains Alice, "but they recognised that when one of them passed away it would not be fair to leave the other one in a house that they could not possibly maintain."
Moving somewhere smaller meant they could do fun things like travel rather than fixing up an old house – and be ready for the next phase of their lives, when there might be mobility issues to deal with.
Although it was difficult to move away from their son in Devon, moving to the same Perthshire village in Scotland where their daughters lived gave them double the support and quality time with their grandchildren. Alice and her siblings saw their role to support whatever their parents chose to do.
The move, eight years ago, went well, but another big change came after.
Alice explains, "Dad has sadly passed away, but Mum has been warmly welcomed into village life, with the local church providing an instant and genuine source of friendship and activities. She has a circle of friends in her own age group and her garden is lovely."
Alice's tips for a successful downsize
"Perhaps some people are waiting for the ideal time to move, but waiting too long can make it harder to integrate into the new life, or the move never happens. There is courage in knowing when to catch the wave."
Clive and Angela: downsizing to cut costs and boost a social life
Clive and Angela downsized in South Wales, taking on a house that needed major refurbishment.
Baptist minister Clive and retired nurse Angela decided that their four-bedroom house was too big after their children left home. They also spent most of their time in a village a few miles away, where Clive is a minister, so moving there made sense.
The most difficult part was that their new home needed to be completely renovated. They had to rent another house while the work was done, which meant extra expense and two house moves.
Clive and Angela's tips for a successful downsize
They explain: "Our builders underestimated the timescale and costs, so we learned to add extra to quotes given by tradespeople. If we had to do it again, we would add time and money to the costings and set down a payment plan.
"The upside is that we now live where we spend most of our time and save travel costs with one car instead of two. We also have lower running costs in a smaller home and we can get to know the local people much better."